Similar to many other factors, cremation cost in Delaware depends on the provider and the services you request. However, we are eager to provide you with information on different cremation types and their varying cremation cost in Delaware:
Basic Cremation: A basic cremation includes the essential services necessary to perform a cremation. Moreover, these services may include transportation of the body, the cremation process, and the return of the ashes to the family. The cost of a basic cremation in Delaware can range from $900 to $2,500.
Additional Services: Families may opt for additional services, such as a memorial service, visitation, or an urn. These services can add to the cost of cremation and may range from $500 to $3,500.
Cremation Container: A cremation container is required for the cremation process. The cost of a cremation container can range from $100 to $1,000.
Death Certificate: A death certificate is a legal document required for various purposes, such as settling the deceased's estate. The cost of a death certificate in Delaware is typically around $20 to $25 per copy.
Permit Fees: Cremation in Delaware requires a permit from the state, and the fees can range from $25 to $75.
Transport: If the deceased needs to be transported from one location to another, such as from a hospital to a crematorium, transportation fees may apply. These fees can range from $100 to $500.
Overall, the total cremation cost in Delaware can range from $1,500 to $7,000, depending on the services you request and the provider. However, the most appropriate option for you is to get a detailed estimate from a funeral home or cremation provider before making a decision. Moreover, prepaid funeral insurance is also a considerable option for you to choose.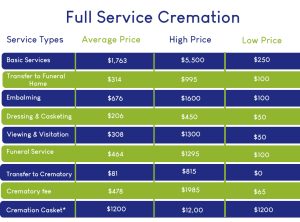 The Average cremation cost in Delaware
The cremation cost in Delaware can vary depending on several factors such as the cremation service provider, the services you may include, and the location. However, the average cost of cremation in Delaware is around $3,000 to $4,000, according to data from the Cremation Association of North America (CANA).
We always advise you to note that this cost is for a basic cremation. It does not include any additional services such as a memorial service, visitation, or an urn. Therefore, families should consider their budget and needs when choosing a cremation provider.
Moreover, they should always inquire about the specific services and costs of each provider. Some providers may offer lower-cost options, while others may offer more comprehensive packages that include additional services.
A Cremation or Burial? Which is more Cheaper Cremation Cost in Delaware
According to the National Funeral Directors Association (NFDA), cremation rates have been increasing in the United States over the past few years. In Delaware, the cremation rate has also been on the rise. As per the latest data available from the NFDA, the cremation rate in Delaware was 54.1% in 2019, which is higher than the national average of 53.2%.
However, burial is still a popular choice in Delaware, with many families choosing to bury their loved ones in a traditional cemetery. You must understand that the choice between cremation and burial is a personal one. Families should consider their preferences, cultural or religious beliefs, and budget when making the decision. See also the least expensive option, direct cremation service.
Why should I choose Delaware Cremation Service?
Here are some factors to consider when choosing a cremation service in Delaware:
Reputation: Look for a cremation service with a high reputation in the community. You can check online reviews, ask for recommendations from friends and family, or check with the Better Business Bureau.
Cost: Consider the cost of the cremation service and any additional services you may need. Look for a provider that offers transparent pricing and is upfront about all costs associated with their services.
Services Offered: Consider the services offered by the cremation service. Do they provide transportation, death certificate assistance, and help with obtaining permits? Do they offer memorial services or visitation options?
Facilities: Check out the facilities of the cremation service provider. Do they have a modern, clean facility? Is the staff professional and courteous?
Personalization: Look for a cremation service that offers personalization options. It can include selecting an urn, creating a customized memorial service, or providing grief support for your family.
Deciding on the right type of cremation or any other insurance service may never be an easy task. When you do your research, compare options, and ask questions, you will significantly improve your chances of choosing the right provider. No Medical Exam Life Insurance is the best option included in our services for you. Just have a quick review.