Burial services in Mississippi are divided into two major categories: Traditional Burial Services and Cremation Services. However, we are providing you with a complete guide on the types of these main categories.
Traditional Burial Services
Cemetery Selection: Traditional burial services in Mississippi involve selecting a cemetery where the deceased will rest. Mississippi has a variety of cemeteries, ranging from small local family cemeteries to larger public cemeteries. Many cemeteries offer services such as burial plots, crypts, or mausoleums. Families should consider the location, cost, and services when selecting a cemetery.
Pre-Planning: Pre-planning funeral services is an important step in traditional burial services in Mississippi. Pre-planning involves selecting the type of service, type of casket, and other important decisions you should make in advance. It will allow families to make decisions that meet their needs and ensure their loved one's wishes are complete.
Funeral Services: Funeral services for traditional burial in Mississippi typically involve a visitation, a service, and a committal service. The visitation allows family and friends to gather and share stories and memories of the deceased. The funeral service is typically a religious ceremony but can also include secular elements. The committal service is the service's final part, typically involving the final farewell.
Cremation Services
Types of Cremation Services in Mississippi
Cremation services in Mississippi include direct Cremation, basic Cremation, and full-service Cremation. Direct Cremation is the most affordable option, involving only the Cremation without a funeral service, visitation, or another memorial ceremony.
However, basic Cremation includes a brief visitation, memorial service, and the Cremation itself. Full-service Cremation involves a full funeral service, visitation, and memorial ceremony before the Cremation takes place.
When to Use Cremation Services
Individuals can use cremation services instead of a traditional burial for many reasons. Some families may choose Cremation for religious reasons. At the same time, others may prefer the convenience and cost-effectiveness of Cremation. In some cases, Cremation may be the only option available due to limited space in a cemetery or other restrictions.
How much does Cremation cost in Mississippi?
The cost of cremation services in Mississippi can vary depending on the type of Cremation chosen. Direct Cremation is typically the most affordable option, while full-service Cremation is the most expensive. Other factors that can influence the cost of cremation services include:
The location of the funeral home.
The type of urn or container used.
Any additional services you may choose.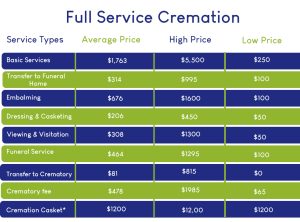 What to consider when selecting burial services in Mississippi?
When selecting a burial service in Mississippi, it is important to consider the following:
The cost of the services: It is important to consider burial costs and compare them to other local providers.
The type of services offered: It is important to consider the type of services the provider offers, such as Cremation, burial, and other memorial services.
The provider's reputation: It is important to research the provider and determine if they have a good reputation in the local community.
The provider's availability: It is important to consider the provider's availability and ensure they can provide services at the time and location needed.
The provider's experience: It is important to consider the provider's experience and ensure they have the expertise to provide quality services.
The provider's location: It is important to consider the provider's location and ensure they are close to the desired burial site. See also, our customized family life insurance plan to think ahead.