Burial services in Connecticut are a crucial part of honoring and celebrating the life of a loved one. There are a variety of options available to families in the state, from traditional burials to cremations, to eco-friendly burials.
Funeral homes in the area are experts at helping families plan a meaningful and memorable service to honor their loved one. From personalized touches to the service to the choice of flowers, the burial service should be a reflection of the individual's life.
Costs of burial services in Connecticut
Cost of burial services
The cost of Burial Services in Connecticut varies depending on the type of service you prefer and the cemetery. Common services include a cemetery plot, grave opening and closing fees, a headstone, casket, and other related fees. Generally, the cost can range from $1,000 to $20,000 or more.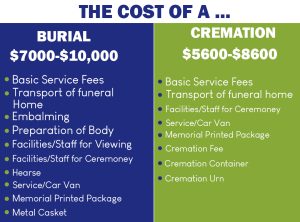 Average Cost of Burial Services
The average cost of burial services in Connecticut is approximately $9,000. However, you can break it down into different categories, such as cemetery plots, grave opening and closing fees, headstones, caskets, and other related costs. The first thing for you to note is that prices can differ significantly, depending on the services you choose.
Burial Services Regulations in Connecticut
Rules and regulations
Rules and Regulations: In Connecticut, burial services regulations are the responsibility of the Connecticut Department of Public Health. To provide burial services, funeral homes must obtain a license and meet certain standards.
Moreover, you must conduct all burials in accordance with applicable state and local laws and regulations. Additionally, service providers must bury the deceased in a designated cemetery, and they must dig the graves a minimum of three feet deep. Having a durable grave marker, such as a bronze or granite monument, is another essential task.
Licensing requirements
Licensing Requirements: In Connecticut, funeral homes and other providers of burial services must obtain a license from the Connecticut Department of Public Health. They must renew their license annually. In order to obtain a license, funeral homes must meet certain standards. These may include, having a designated place of business and meeting all local zoning requirements.
Funeral homes must also have an inventory of burial supplies and equipment. Moreover, they must employ at least one licensed funeral director. Furthermore, all funeral directors must complete the necessary educational and experience requirements to be eligible for licensure.
Impact of New Regulations on Burial Services in Connecticut
 The revised regulations on burial services in Connecticut have had a significant impact on the funeral industry. Many funeral homes and cemeteries have had to adjust to the updated regulations. Furthermore, these include stricter rules around the disposal of human remains, the transportation of remains, and the handling of cremated remains.
These regulations have resulted in increased costs for funeral homes and cemeteries, as well as more paperwork and additional staff to ensure compliance. Additionally, the amended regulations have led to an increased need for cremation services. This is because many families are choosing to forgo traditional funeral services due to the costs associated with burial.
As a result of the amended regulations, funeral homes and cemeteries are having to make significant adjustments to the way they do business in Connecticut. This is impacting the industry as a whole.
What Are Some Reasons Why Someone Might Need to Delay Burial?
There are a variety of reasons why someone might need to delay the burial of a deceased loved one. For example, if the deceased did not have a pre-arranged funeral plan, their family may need to take some time to properly plan and organize funeral arrangements.
Additionally, family members may need to travel from far away to attend the burial. They may not be able to arrive in time if the burial is scheduled too soon. If the deceased was a member of the military, the family may be forced to wait until the body is released by the military for burial.
Finally, if a post-mortem autopsy is necessary, the family may need to wait for its results before proceeding with burial. Get assistance from our affordable option Health Insurance. It will save you money and time.